FAQS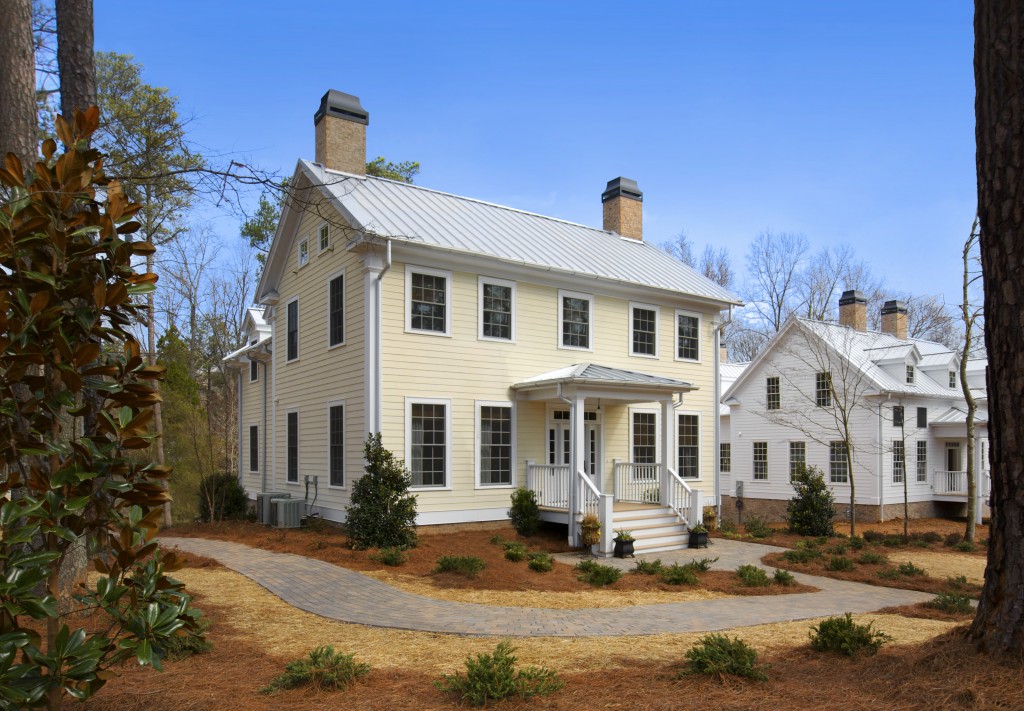 WHAT DOES NEW WORLD HOME DO?
New World Home is an advisory group and producer of sustainable housing, dedicated to fulfilling the convergence of historically inspired design, next generation green products with ultra-efficient manufacturing methodologies. The end result represents the advent of the New Old Green Modular® (NOGM) home. New World Home works closely with developers, builders and an increasing array of organizations including academic institutions, government agencies and non-for-profit groups to create regionally appropriate, sustainable housing solutions specifically engineered to optimize home energy performance.
HOW LONG DOES IT TAKE TO PRODUCE A NEW OLD GREEN MODULAR (NOGM) HOME?
Because NOGM homes are factory-built in a state-of-the-art manufacturing facility, a newly built home is typically produced, transported, set and finished in a matter of months from the start of factory production depending upon the complexity and size of the project.
WHAT IS ACTUALLY 'GREEN' ABOUT A NOGM HOME?
What ultimately dictates how green a home can be is measured by technical structural performance and how much energy and natural resources are required to provide a safe and comfortable environment for all inhabitants. A NOGM home reduces overall energy consumption by more then 50%, saves thousands of gallons of water per year and provides superior indoor air quality when compared to a typical code-built house.
A NOGM home is considered 'green' along several dimensions. New World Home is a participant in the U.S. Green Building Council (USGBC) LEED for Homes rating system, the National Association of Home Builders (NAHB) National Green Building Standard, EarthCraft House and the EPA Indoor Airplus Program.
A NOGM is able to achieve the highest levels of certification by utilizing a "whole systems approach" to home construction. Authentic design, a strong project team, world class brand partners and various construction techniques are all contributing factors to building a NOGM home.
ARE NOGM HOMES FOR ALL CLIMATES IN THE U.S.?
All New World Home NOGMs are specifically designed on a regional basis and incorporate climate-specific energy features that greatly exceed local energy code requirements. In addition, a NOGM design fits in naturally with its surrounding landscape and community and pays homage to the local architectural vernacular instead of contradicting or ignoring history as is so often the case with new construction. Simply put, a new old home should appear as though it has always been there.
WHAT DIFFERENTIATES NOGM HOMES FROM SOME OTHER MODULAR HOMES?
While there are many innate green characteristics related to modular manufacturing (e.g., climate controlled setting, reduced waste, etc.), there are two primary differences between a NOGM home and an ordinary modular home. First, a NOGM home is based on a historically inspired traditional design ("new old") that evokes the spirit of the past while respectfully integrating all of the modern conveniences and amenities afforded by the 21st century. Second, a NOGM utilizes a whole systems approach to design incorporating the most stringent green standards, products and practices in the industry (e.g., LEED for Home). As a result, a NOGM home approaches USGBC LEED for Home certification directly out of the factory. Via the convergence of traditional design and state-of-the-art green elements, New World Home has established the basis a unique housing solution.
WHAT ARE SOME TYPICAL MISPERCEPTIONS IN THE MARKET ABOUT MODULAR HOMES?
(1) Modular homes are low quality structures and poorly constructed
By virtue of the production process, the components of a modular home are built in an environmentally-controlled factory setting where consistent and well-trained crafts people perform highly specialized functions. Quality control is monitored at every station in the production line. Jigs and templates produce more precise structures than on-site construction resulting in tighter joints, straighter lines, stronger connections and materials cut with a higher degree of accuracy. In addition, a modular house has to be strong enough to be transported and lifted by a crane. During transport, the modules essentially withstand mini-earthquakes and the equivalent of a Category 1 hurricane driving down the highway at 75 mph.
(2) Modular homes are just like trailers and mobile homes
Modular homes have been long associated with mobile homes likely because they are both considered manufactured housing, which is where the similarities end. Modular homes are comprised of several different boxes, or modules, that are individually manufactured and transported on site where they are assembled into a cohesive structure. Modular homes must adhere to (and in most cases exceed) the same building codes as traditional stick-built homes.
(3) Modular homes are based on cookie-cutter designs
For decades, modular housing has carried a negative stigma. But what if instead of utilizing over-standardized plans we integrated historically inspired traditional design into the manufacturing process? Instead of designing homogenous structures devoid of historical context or character, we built homes that look and feel like they've been around for 150 years? Producing homes that evoke the spirit of the past across a wide range of regional architectural vernacular is precisely the design imperative at New World Home, and we are constantly expanding our design portfolio on this basis.
HOW MUCH DOES A NOGM HOME COST?
NOGM homes are extremely cost competitive compared to site-built homes. It is a fundamental objective for New World Home to develop housing solutions with minimal up-front premium for green products and features. Customers are then able to fully realize the many advantages of owning a NOGM home starting with a minimum 50%+ energy savings starting from Day 1.
WHAT IS THE PROCESS INVOLVED WITH PURCHASING A NOGM HOME?
There is a 7-step ownership process for purchasing a NOGM home.
1. Acquire Land
2. Select Home Design and Options
3. Home Pricing
4. Engineering & Permits
5. Production & Site Prep
6. Home Delivery
7. Home Finishing