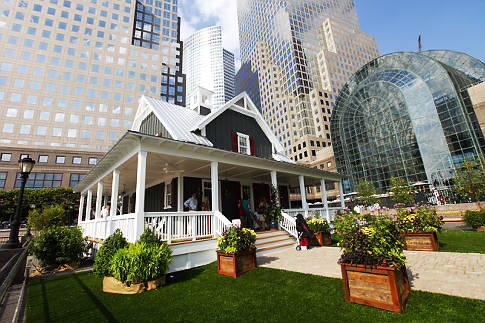 The New York Daily News visits the Country Living 2010 House of the Year:
Located on the water's edge at the World Financial Center in the outdoor plaza at 220 Vesey St., the Country Living House of the Year comes to New York City for the first time in its 20 years. Showing off modular, green housebuilding from Jersey City-based New World Home, the house proves that eco-friendly, LEED homes come easy (100 days from order to delivery) and can combine traditional lines with modern technologies.

This home uses no alternative energy sources such as solar panels but can still save thousands of dollars per year in electricity and heating costs and use 60% of the energy of a code-built house. Of course, the house is for sale. In a partnership between forward-thinking Country Living and New World, the magazine will offer a range of homes. This one, aptly called the Hudson, costs $575,000 and $375,000 in simplest form.