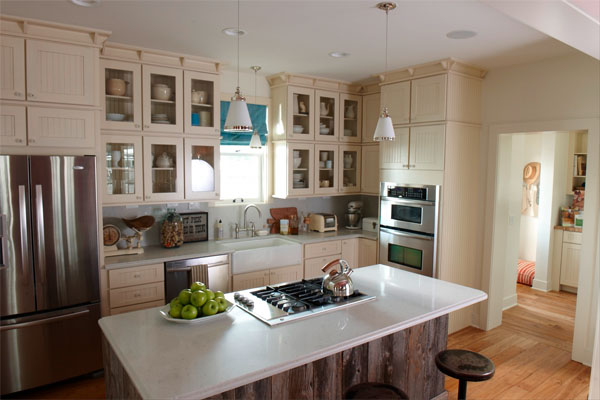 New World Home is proud to offer Armstrong as our preferred provider of cabinetry. Armstrong's Origins Series™ combines durability and value along with the environmental benefits of sustainable, low emitting materials. The hardwood plywood used to construct these cabinets uses PureBond®, one of the latest advances in sustainable wood processing. PureBond® utilizes a urea-formaldehyde free, soy based adhesive in the plywood manufacturing process.
CisionWire writes about Armstong Cabinets' collaboration with New World Home and Country Living Magazine on the 2010 House of the Year:
Armstrong Cabinets is featured in Country Living's 2010 House of the Year building project, "Home Green Home". The house, developed by New World Home and designed by Country Living editors, is part of the historically-inspired Country Living Collection of modular homes, which offer attainable green living coupled with classic country style. Home Green Home reflects the magazine's refined, unfussy point of view and features environmentally responsible products in every room. The home is featured in the November 2010 issue of Country Living magazine.

For the kitchen, Country Living editors selected Armstrong's Town&Country™ maple door style, a casually elegant look with straight, vertical grooved panels. The editors paired the door with the new eco-friendly Origins™ cabinet that utilizes a urea-formaldehyde free, soy-based adhesive called PureBond®. The hardwood plywood is derived responsibly from managed forests, and then enhanced with a proprietary resin, giving it particularly strong bonding and water-resistance qualities.