By Kimberly L. Jackson/The Star-Ledger
Updated March 30, 2019
The Star-Ledger, NJ's largest online newspaper, today published an update on the New Jersey Shore rebuilding efforts in the aftermath of Sandy. The Home & Garden article features multiple New World Home regional projects. Tyler Schmetterer, New World Home Co-Founder, describes how these and other projects are contributing to the architectural integrity and safety of future generations of NJ homeowners.
In western New Jersey, there's a high-profile supporter of modular building in former Gov. Christine Todd Whitman. On the family's Tewksbury farmstead, Whitman's daughter Kate lives in a traditionally styled modular home with her husband, Craig Annis, and their four children. For Whitman, who also headed the U.S. Environmental Protection Agency, the dwelling exemplifies how modular construction can produce highly energy-efficient "green" dwellings designed to mesh with historic areas.
[Caption] A modular farmhouse, traditionally designed by New World Home on the farm owned by former NJ Gov. Christine Todd Whitman
The Whitman-Annis house, with its steel roof, conforms to requirements of the Oldwick Historic District in which it is located, says Tyler Schmetterer, founding partner of New World Home, which built the house. "The architecture is equally important as the green attributes," he says.
Behind the facade of a traditional farmhouse, builders installed bamboo floors, a re- claimed-wood kitchen island, water-conserving kitchen and bathroom fixtures, energy- efficient appliances and other features. "When we design something, we want it to look like it's been there 150 years," Schmetterer says.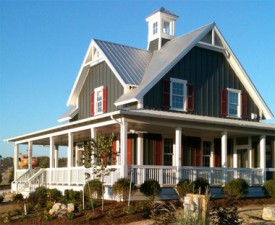 [Caption] Country Living magazine's House of the Year in 2010 was this 1,607-square-foot modular cottage designed by New World Home. It was first shown in New York City and then moved to Crystal Springs Resort in Hardystown.
On a verdant lot in Sussex County, another New World Home design had been a model house at Crystal Springs Resort, an example of what could be built in the area. Created in partnership with Crystal Springs and in collaboration with Country Living to produce the magazine's annual House of the Year in 2010, the 1,607-square- foot cottage spent two weeks as an exhibition at Manhattan's World Financial Center that year. Then it was disassembled and trucked to its present location in Hardystown.
The model cottage, which sold last year, stands as an example of the sturdiness of modular houses, Schmetterer says. "The modules are independently strong and reinforced by the rest of the house." The sturdiness of a well-engineered modular structure also makes it a good solution for those building in hurricane-prone areas, he says. "Our stock home is built to withstand 120-miles-per-hour wind. In the Hamptons, that's code. New Jersey is going to have to do the same thing," Schmetterer says. "Look what Sandy did at 70 miles per hour. The homes have to be able to withstand these storms."