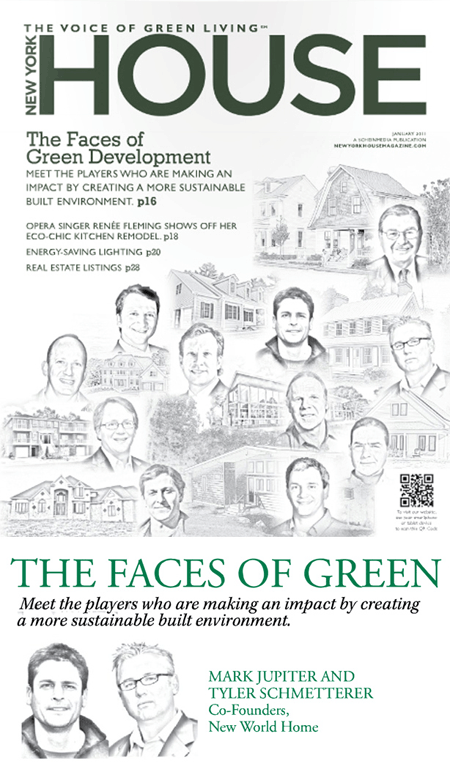 New York House Magazine recently wrote an article on the top 10 players who are making an impact by creating a more sustainable built environment. New World Home's own Mark Jupiter and Tyler Schmetterer make the list:
Mark Jupiter and Tyler Schmetterer
Co-Founders, New World Home Mark Jupiter and Tyler Schmetterer, Skidmore College roommates who have been best friends for over 25 years, pooled their resources to launch New World Home with the belief that their green modular homes can transform the housing industry. New World Home builds and delivers homes that are historically inspired, affordably priced, and exceed the highest green standards in the industry. Its New Old Green Modulars (NOGMs) have achieved LEED Platinum and NAHB Emerald certification, without relying on costly renewable energy sources (e.g. solar panels, wind turbines, geothermal systems, etc.). Through superior building science, smart design, and an ultra-tight building envelope, the homes achieve a minimum of 50-percent-plus energy savings over a typical site-built home from day 1. Having built several NOGMs in New York, Georgia, and New Jersey, the company has a program to expand nationally through a turnkey licensing program to provide "on-demand housing"—working with developers, builders, landowners, and realtors to create regionally appropriate, sustainable housing. Because its homes have such a short building timeline, there is no longer the need for speculative building. This "on-demand housing" model, the executives feel, will become quite popular. New World Home is building a home in New Jersey for the former Governor and Head of the EPA Christie Todd Whitman's family. It's on target to be the first LEED Platinum and NAHB Emerald factory-built home in that state.
Read more:New York House – The Faces of Green