New World Home's Essential Housing® Program is off to a great start in Atlanta, GA! See what the Green Building Chronicle has to say about our first Essential Housing® Model Center:
A community nonprofit and a modular green homebuilder have a joint message for Atlanta residents: Sustainable housing isn't just for the well-healed eco-ratti anymore.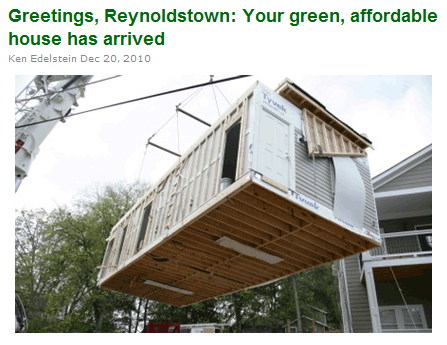 This model house in Reynoldstown is supposed to demonstrate that. It's a joint effort between Atlanta-based Resources for Residents and Communities, which is assembling land and financing for a dozen similar houses (also in Reynoldstown), and New World Home, which has made a bit of a splash nationally by assembling LEED-certified, traditionally designed, high-end custom homes in a factory. JPMorgan Chase donated the land for the first house from a foreclosed property.
This is the first home designed to be affordable, durable, healthy, energy and water efficient that has been architecturally inspired by the historic neighborhood of Reynoldstown," New World Certification Director David Hunt writes in an email. "It represents a new look at affordable housing. The products selected have been chosen for their low impact on the environment, local production, promotion of healthy indoor air (no off-gassing), and energy and water efficiencies."
To read the full article click here